LegalEZ Digest
Vector Health is a trusted source for compliance experts seeking comprehensive knowledge in the pharmaceutical and medical device industry at global, federal and state level.
Regulatory Compliance Resource
When it comes to regulatory compliance, Vector health LegalEZ is the go-to resource for busy life science professionals. Our LegalEZ will keep you informed of the latest updates by giving you a regular dose on the latest regulatory and compliance updates.
Our LegalEZ will provide you with updates relating to current U.S. and global transparency reporting.
Topics include:
US Federal & State & Global transparency reporting deadlines.
Detailed information relating to disclosure platforms.
CMS updates
Links to useful resources including submission portals and Country and state guidance on how to make your submission.
Links to FAQ's relating to disclosure submissions.
Contact detail information for manufacturers who have queries surrounding portal difficulties.
US & Global Life Science Transparency & Data Protection Bills
This segment contains in-depth information on current US and global laws, industry codes, regulations and pending legislation relating to U.S. Federal, State and Global Transparency reporting.
Topics include:
Outline of upcoming changes to regulations influencing Transparency Reporting and Compliance.
Identification of relevant pending legislation across the globe.
Commentary, by our legal team, on how certain changes will affect medical and pharmaceutical manufacturers from a compliance point of view.
Discuss methods which compliance teams may adopt or use in order to manage the changes.
US & Global Data Privacy Laws
Data Protection laws are becoming increasingly popular throughout the world. The US is seeing an increase to its data privacy laws both on state and federal level. Our LegalEZ provides life science professionals regular updates and commentary on how new changes will impact the life science industry.
The following are included in this segment:
Enforcement trends at U.S Federal, State & EU regulatory level
U.S Federal & State and EU Legislation tracking
GDPR & SCHREMS II updates
Existing US Federal & State and EU/UK data privacy & security laws
Commentary on best practices to use to comply with current and future Data Privacy laws.
Government Prosecutions
This segment outlines federal government actions against life science companies that have allegedly violated laws such as; anti-kickback laws, FDA regulations, and the False Claims Act. It contains a summary of the violation and the decision given by the government agency and includes details of any monetary penalties given to companies.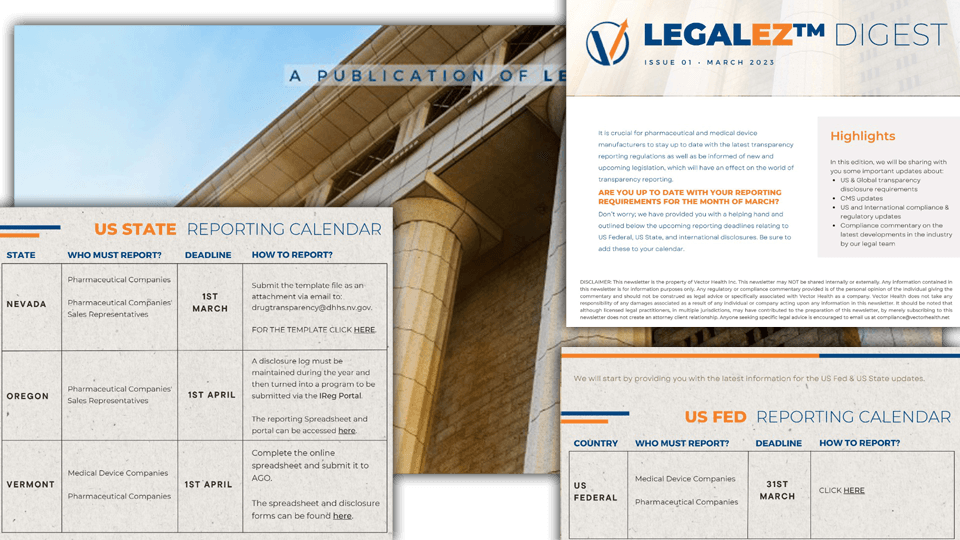 Office
237 Kearny Street, Suite 294, San Francisco, CA 94108